Happy Friday! I'm pretending to be happy that it's Friday even though I have to work all the livelong day tomorrow. Fridays still feel special somehow, do they not? I'm linking up with Clare for a Five Things Friday post again this week to share some of my week's highlights (and lowlights?) with you all.
Five Things I Ate
Pasta with meat sauce and bread, made by my friend on Monday when we got together to watch The Voice. Team Pharrell for life!
Homemade caesar salad (picture taken pre-lettuce) made by the couple whose house I'm staying in before they left. On their own, anchovies aren't really my thing, but it's a whole different story in caesar salad.
Chili, also made by said couple. It was darn good chili, too.
Lentil and mushroom soup, with some Trader Joe's Everything crackers and carrot sticks. Rainy weather calls for soup, and we have had some rather dreary rain lately.
New yogurt found at the natural foods store. I'm a sucker for new yogurt varieties, and this one definitely received two thumbs up.
Five Things I Pinned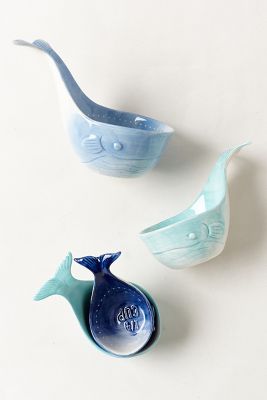 I really, really want these measuring cups. Although I don't measure things as obsessively as I used to (thanks, recovery!) I still appreciate an adorable measuring vessel as much as the next guy.
It's a fine balance.
A possible use for jeans that no longer fit, perhaps?
Simple and beautiful.
Whoever edited this idiotic advertisement is wonderful.
Five Things Making Me Happy
1. I brought my guitar out to this house with me and I've really enjoyed playing it, albeit poorly. I figure it'll scare away the bears, which is totally cool with me.
2. I had a great staff meeting last night. While that might sound like an oxymoron, it was the same pre-holiday season staff meeting that we had last year, when I was so, so sick. I was starving during that meeting, but wouldn't touch the food that was being passed around. In comparison, it was pretty fan-fucking-tastic this time around. This year, I ate pizza and joked with my coworkers, wholeheartedly engaging in the meeting. It felt amazing.
3. I had a much-overdue FaceTime session with my big bro last night, and catching up with him was wonderful.
4. I had a great week off from intense exercise. It was anxiety-inducing, nerve-wracking, and incredibly challenging at times but I'm glad that I showed myself that I could do it. I'm going to continue limiting my exercise and assessing how I feel along the way. This week also marked one month without weighing myself, which is incredible to write. I know at this point in my recovery that knowing my weight would be a hindrance, so for now I am holding off from weighing myself until further notice.
5. A customer brought this teeny, tiny puppy into work a few days ago and I could barely contain myself. I had to refrain from shoving it in my apron pocket and stealthily sneaking out the back door with it.
That pretty much wraps things up this Friday! Have a great kick-off to the weekend, y'all!